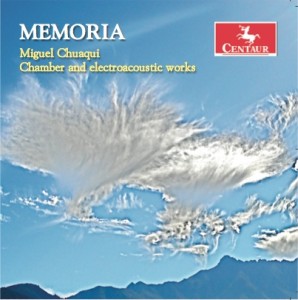 Memoria: Chamber and Electroacoustic Works, Centaur Records (CRC 3003), includes:
EL CANTO REPARTIDO Canyonlands New Music Ensemble: Carlton Vickers (picc./fl./a.fl.), Jaren Hinckley (cl./b.cl.), Gerald Elias (vn.), Niriko Kishi (vc.), Glenn Webb (perc.), Jason Hardink (pno.), Morris Rosenzweig (cond.).
LA PERSISTENCIA DE LA MEMORIA Heather Conner (MIDI-generating pno.), interactive live electronics.
MAREAS Carlton Vickers (a.fl.), live and recorded electronics.
DESDE EL LÍMITE Left Coast Ensemble: Stacey Pelinka (fl.), Peter Lemberg (ob.), Bruce Foster (cl.), Anna Presler (vn.), Kurt Rohde (vla.), Tanya Tomkins (vc.), George Thomson (cond.).
____________________________________________________________________________________________________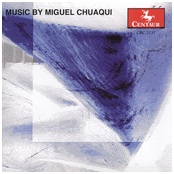 Music by Miguel Chuaqui, Centaur Records (CRC 2737), includes:
HYPERBOLE Parnassus: Keith Underwood (fl.), Alan R. Kay (cl.), Cyrus Stevens (vn.), Chris Finkel (vc.), Christopher Oldfather (pno.), Anthony Korf (cond.).
ANCIENT WING Carlton Vickers (fl.).
CUARTETO CLAROSCURO Abramyan String Quartet: Gerald Elias (vn.), Lynnette Stewart (vn.), Scott Lewis, (vla.), John Eckstein (vc.).
DE METAL Y MADERA Carlton Vickers (fl.), Warren Mueller (vc.), Glenn Webb (perc.), Steven Ricks (cond.).
DANZA DEL OCASO Calvin Wiersma (vn.), Alan R. Kay (cl.), Christopher Oldfather (pno.).
____________________________________________________________________________________________________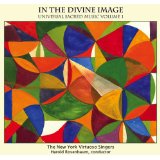 SALMO 139 released on In the Divine Image, Soundbrush Records (SR 1021). The New York Virtuoso Singers, Harold Rosenbaum (cond.).

CASI CUECA from Cuarteto Claroscuro released on eXchange Latin America, New World Records (NWCR848). Cyrus Stevens (vn.), Jennifer Elowitch (vn.), Louise Schulman (vla.), Joshua Gordon (vc.)

JUEGO released on Octagon, Vol. 1, Albany Records (Troy 130). Octagon Ensemble: Nicole Paiement, Zelman Bokser (conds.).